It occurred to me following yesterday's non-livestream, non-mobile device GoPro meditation that I have not made a post on this blog since January 1st, 2022.
I feel now more than ever(on my caravatar's birth-month of all occasions), I can really reflect on where I'm currently at on my spiritual journey following the intervening period since the turn of 2022. Being phoneless, deeper self-awareness has been ACTIVATED. I feel so many former personal faculties being reintroduced into my life at immediate speeds. One can have the ability to think twice – an indispensable talent to forward a sound decision. It's a vibe being without a mobile device to perceive how consciousness doesn't get extracted by the phone AKA liberation.
I'm talking BIG because it feels BIG. Holster the pitchforks. I don't want to flex on anybody for having a phone. After all it's only been a few days. I'm on no tower. Mobile technology has its abundance of advantages. But I could tell it places a barrier in spiritual elevation.
Back during the COVID Summer 2020, fresh into Pandemic quarantines and a dark communal consciousness, I had the opportunity to ordain as a Buddhist monk. I got to live through that summer in reduced, ascetic means. I engaged in a regular commitment to meditation. If I could ever describe an out-of-matrix feeling, that was definitely the ticket. I don't know what came over me or maybe I was just too lazy but I regret not journaling about that time sooner. I will get back to chronicling these great, transformational experiences as I go along. I just want to assert how that summer monkhood is what set the foundation for me to use social media to meditate and encourage meditation. Any other post would just seem EXTRA today.
It is my hope to continue journaling after I get a new phone. As time goes on, I feel I'm free-falling out of the spiritual wavelength. It's been quite some time since I've stayed at the monastery and all I can show for it would be these livestream Facebook meditations.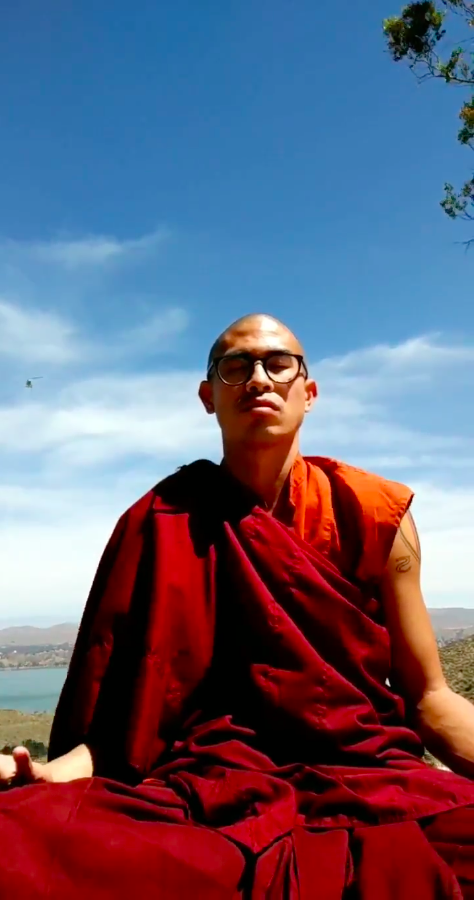 It's been three days without a phone and it doesn't get more transparent to note how my mobile device disconnects me from humanity. Ironic for something to help me better connect with everyone.
Maybe that's what made me suddenly go to JTree. I had some wine, a desert cappuccino and made friends. I'm glad to write again.
Be wavy but most of all stay 🌴,
@LordEQUATOR via caravatar, Solomon